The proposal to make the USB-C port a common standard may just end up making the company go completely wireless for its products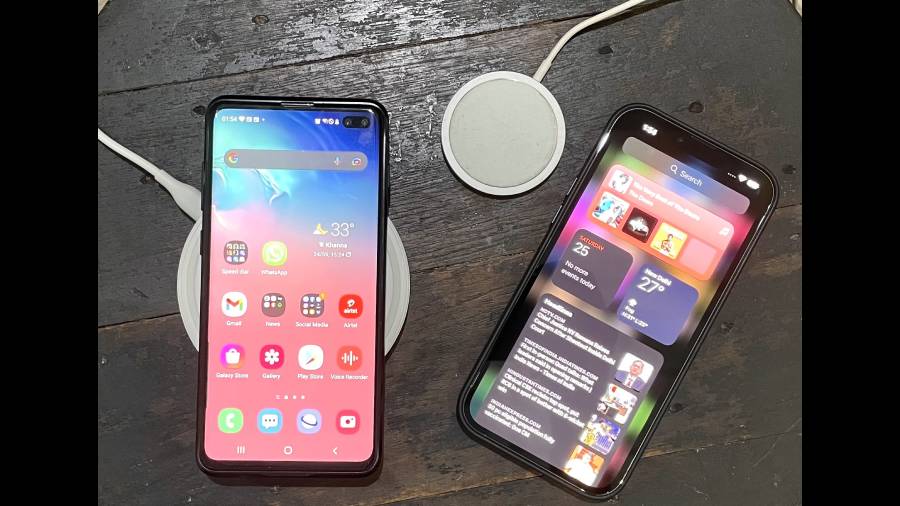 ---
  |  
Published 26.09.21, 10:54 PM
---
What you already know
The European Commission, the executive arm of the European Union, has announced plans to make smartphone and other electronics manufacturers to use a common USB-C charging port on all their devices. It means, the same charging wire and charging brick can be used to power up any device without consumers having to buy separate wires for, say, the iPhone.
The term you will keep hearing is USB-C, which is basically the smaller oblong connector port that has replaced Type-A USB ports. Being symmetrical, it can be inserted either way, unlike earlier USB ports. However efficient that may sound, there are other benefits, like Thunderbolt and USB power delivery, all of which help in using our gadgets at home or in office. The next step is USB4, which should be able to move larger volumes of data in a shorter span of time. But we are getting ahead of ourselves.
Apple is saying…
Time and again, all articles mention how Apple will be affected by the move because on its iPhones, which is used by millions around the world. The iPhone has the company's proprietary Lightning connector rather than the USB-C connector and that hasn't changed for years even though the company has moved to USB-C on its iPad and MacBook.
The company argues that the proposed legislation "would have a direct negative impact by disrupting the hundreds of millions of active devices and accessories used by our European customers and even more Apple customers worldwide, creating an unprecedented volume of electronic waste and greatly inconveniencing users".  This is in a way correct. Apple can't supply iPhones with USB-C connectors to Europe while those with Lightning connectors to other markets.
If we go by what Apple is saying then there will be more e-waste because people will have to buy new cables and adapters but on the other hand, many Apple users also have iPads and MacBooks that offer USB-C ports.
When the iPhone was introduced in 2007, it came with a 30-pin connector designed by Apple at a time when others used micro USB or other proprietary connectors. In 2012, it was replaced with the Lightning port, which had a symmetrical form, allowing cables to be plugged in both ways up.
Things won't change immediately
For the proposal to become a law, it will need to pass a vote in the European Parliament. If that goes through, manufacturers will eventually have 24 months to comply with the new rules. Since the parliament has already voted in favour of having a common charger in early 2020, the new proposal should go through, maybe with small changes. If the law is passed next year, then it will be two years before it comes into play.
Two years is a long time
Worth more than a couple of trillion dollars, it's unlikely that Apple would mind giving up income from selling Lightning port cables. Sure, those cost quite a bit but that's not how a trillion-dollar company works. Instead, Apple may push the envelope further and make wireless technology popular enough to make other brands fall in line.
When the company decided to drop the charging brick from its iPhone boxes last year, everyone laughed and some brands even took to Twitter to crack jokes at the expense of Apple. This year, Samsung decided to drop the charging brick from its flagship phone boxes. It's just a matter of time other brands follow suit.
Apple has been pushing wireless technology for sometime and also its range of accessories called MagSafe, which lets you charge the iPhone or the Apple Watch. It's a small disk that attaches to the back of your phone and juices it up.
Rumours of having an iPhone without any ports has been in the air for years but the EU proposal can be the tipping point. Look at what Apple did with the iPhone 7 — it killed the 3.5mm headphone jack and now many companies are doing the same to make customers buy wireless sound options.
Wireless charging is moving in the right direction. OnePlus 9 Pro supports 50W wireless charging or offers a full charge in 43 minutes. Xiaomi has announced its solution with an 80W wireless charger that charges a 4,000mAh battery fully in just 19 minutes.
The wireless charging speed using MagSafe wireless charging on the new iPhone 13 Pro is only 15W but how long will it take for a company like Apple to scale up? And when it scales up, it will simply kill the charging port, making users buy a new accessory, which will be marketed as a fashionable and sensible option.